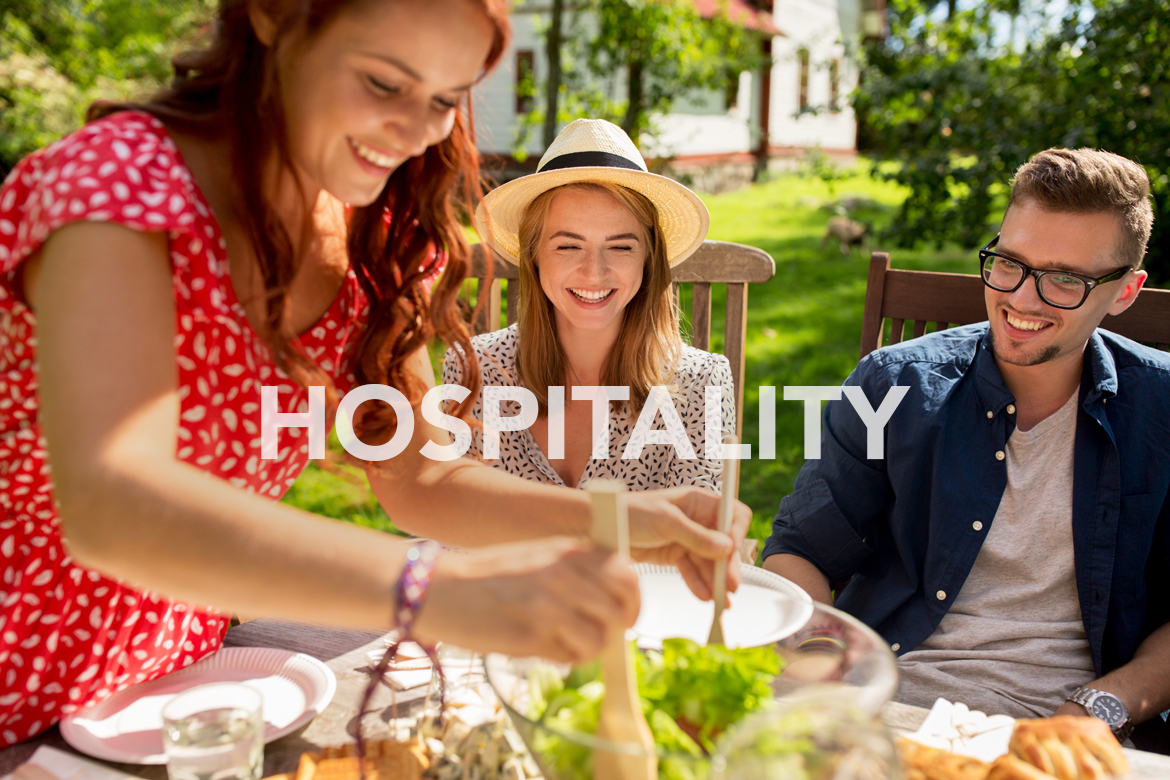 Hospitality
Traditional hospitality has always been and continues to be associated with our beautiful country, which is open to tourists. This very Polish hospitality is legendary and dates back to the period of Sarmatia, nobleman's manors and feasting. Accepting every traveler under their roof was a matter of common courtesy. The well-known proverb "Guest at home, God at home" reflects this Polish hospitality. Those words spoken at the beginning of a visit signify the joy of welcoming a guest in one's house. Today our guests can experience it both in big-city hotels, picturesquely located manors and palaces and in the idyllic surroundings of agro-tourism farms or rural vineyards. Our hospitality is also inevitably linked to our tasty cuisine. Tempting proposals for getting to know Poland through the prism of table delights can be found in the offer of Polish culinary routes. They cover the whole country and lead among tourist attractions: historical cities, museums, castles, national parks, sanctuaries, underground routes, recreational facilities. Along with the culinary delights, all these attractions make up the charm of the local routes. Whether in the mountains or by the sea, on plains, uplands or among lakes, the magic of flavors and tastes spreads its power, according to the proverb "through the stomach to the heart", which takes on a new meaning on a culinary trail.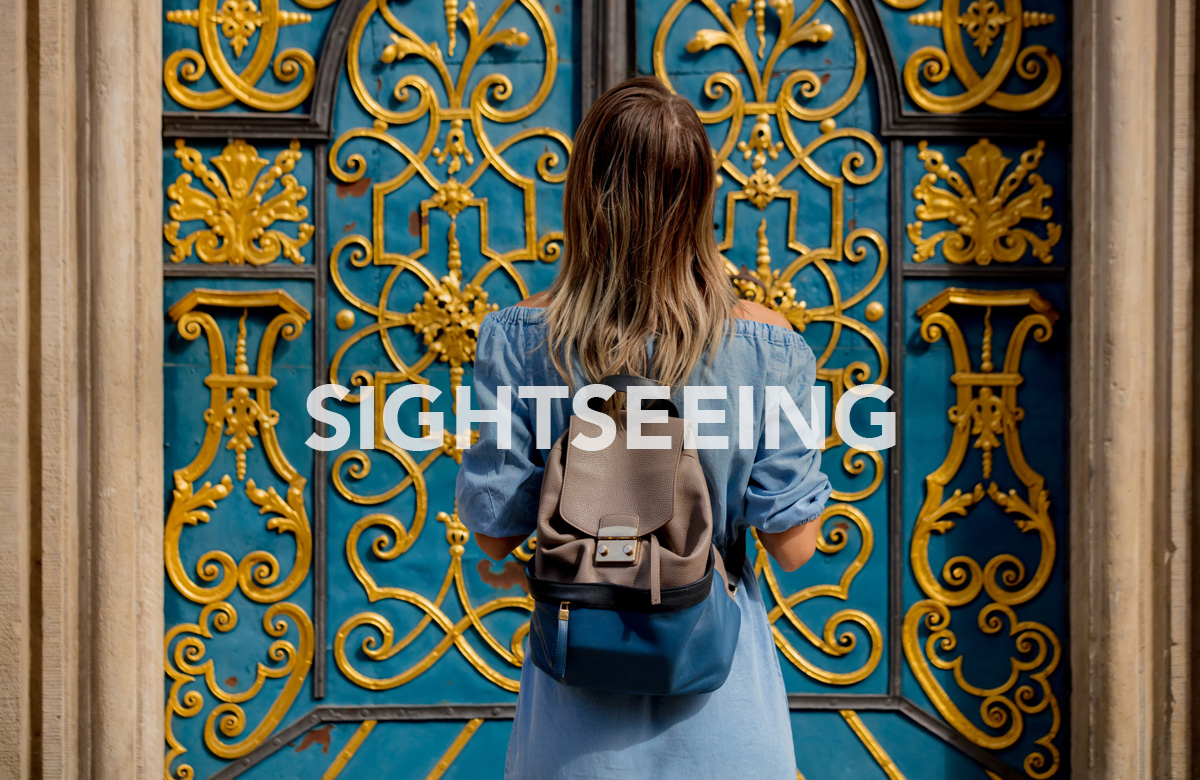 Sightseeing
Poland is a country with a long tradition of over a thousand years and a turbulent history. This is evidenced by the remaining numerous monuments of settlement, defensive, sacral or industrial architecture. The multitude and variety of those sights attract visitors who are kindly and professionally welcomed.
And there is something for everyone! There are numerous castles, palaces and mansions, mostly surrounded by historic and beautifully maintained gardens. Naturally, it is worth starting your adventure with castles and palaces from the most famous, largest, entered to the UNESCO list, or having great significance for the cultural and historical heritage of our country. And those will certainly be among them: The Wawel Royal Castle, the Royal Castle in Warsaw, the Książ Castle and the Castle of the Teutonic Order in Malbork.
The high number of religious monuments scattered throughout the country, including Europe's famous sanctuaries such as Jasna Góra [Luminous Mount] in Częstochowa, will interest not only pilgrims but also lovers of beautiful architecture and ornaments from many eras.
There are also archaeological sites (e.g., the Archaeological Museum in Biskupin, the Slavs and Vikings Center in Wolin, the Ethnographic Park in Sanok and the Ethnographic Park in Tokarnia), mighty forts and fortifications erected for military purposes (e.g., Srebrna Góra, Modlin, Międzyrzecki Rejon Umocniony [Międzyrzecz Fortified Region]), monuments of technology and industry (including the UNESCO-listed salt mines in Wieliczka and Bochnia), wooden architecture (The Wooden Architecture Route in Małopolska, Podkarpacie and Silesia) create a rich array of opportunities to visit our country.
They have been created throughout history, under different conditions, often as a result of the clash of influences between Western European and Eastern cultures. Today, those historical sites are offered to our guests as attractions or products of special value. Some serve as museums, and some are used directly to serve visitors as hotels or conference centers.
And what will a nature-loving tourist see? — — national parks, over 120 landscape parks, numerous urban parks and gardens, and those embedded in the landscape of small towns, villages and green areas. The tourist will see coastal and mountain, lowland and upland landscapes; they will see rivers, ponds and lakes, forests, woods and primeval forests …
There is a lot to see in Poland and every tourist will find something special for themselves!
Heritage
Since its beginnings, Poland has been at the center of Europe – at the crossroads of different cultures. Therefore, here you will learn about multicultural and diverse traditions, historical monuments and interesting history. In terms of those resources, Poland is competitive on the European tourism market as it has many valued assets in the form of sites and events of high historical value – a testimony of Polish and European history, flourishing culture and arts.
Discover the rich history and cultural heritage of a country in the center of Europe through as many as 17 sites from Poland entered to the UNESCO World Heritage List. And the venues and sites are very diverse, with something for everyone. Among them there are castles, historical centers, mines, parks …
Apart from the historical centers of Kraków and Toruń, with their fascinating authentic medieval buildings, Warsaw's Old Town occupies a special place in our heritage. Appreciated by the UNESCO commission as it was completely rebuilt after the destruction of World War II. Among the Polish Old Towns on the UNESCO list you will also find the Renaissance "Padua of the North", i.e. Zamość.
One of Poland's very attractive tourist regions – the Małopolska province – is rich in as many as 5 sites entered to the UNESCO list. Among them, apart from the already mentioned Old Town in Kraków within the old walls, Wawel Hill and the Kazimierz and Stradom districts, the region can also boast the world-famous Royal Salt Mines in Wieliczka and Bochnia, or the wooden churches of Małopolska.
Not only wooden churches are among the UNESCO sites in Poland, but also wooden Orthodox churches in the Polish and Ukrainian Carpathian region.
The Castle of the Teutonic Order in Malbork is also on the UNESCO list in Poland as a unique architectural work on a global scale whose bold and innovative technical solutions were later used in other strongholds.
The Centennial Hall in Wrocław was also included in this noble group of our country's sites due to the "revolutionary" use of reinforced concrete as the cover with the largest span in the world. Not far from Wrocław you can visit the extraordinary Churches of Peace in Jawor and Świdnica with their impressive interiors decorated with magnificent polychromes. If you head further west towards the German border, you will find yourself in Muskau Park, a German-Polish cross-border facility and the largest English-style park in Poland and Germany.
Additionally, Poland's cultural heritage assets include those listed by UNESCO in recent years: Lead, silver and zinc ore mine in Tarnowskie Góry (in 2017) and Krzemionka region of prehistoric striped flint mining (in 2019).
In our country, you will also find two natural heritage assets listed by UNESCO. These include the ancient, more than 500-year-old Białowieża Forest as a Polish-Belarusian transboundary site and the recently inscribed (in 2021) Ancient and Primordial Beech Forests of the Carpathians and other European regions.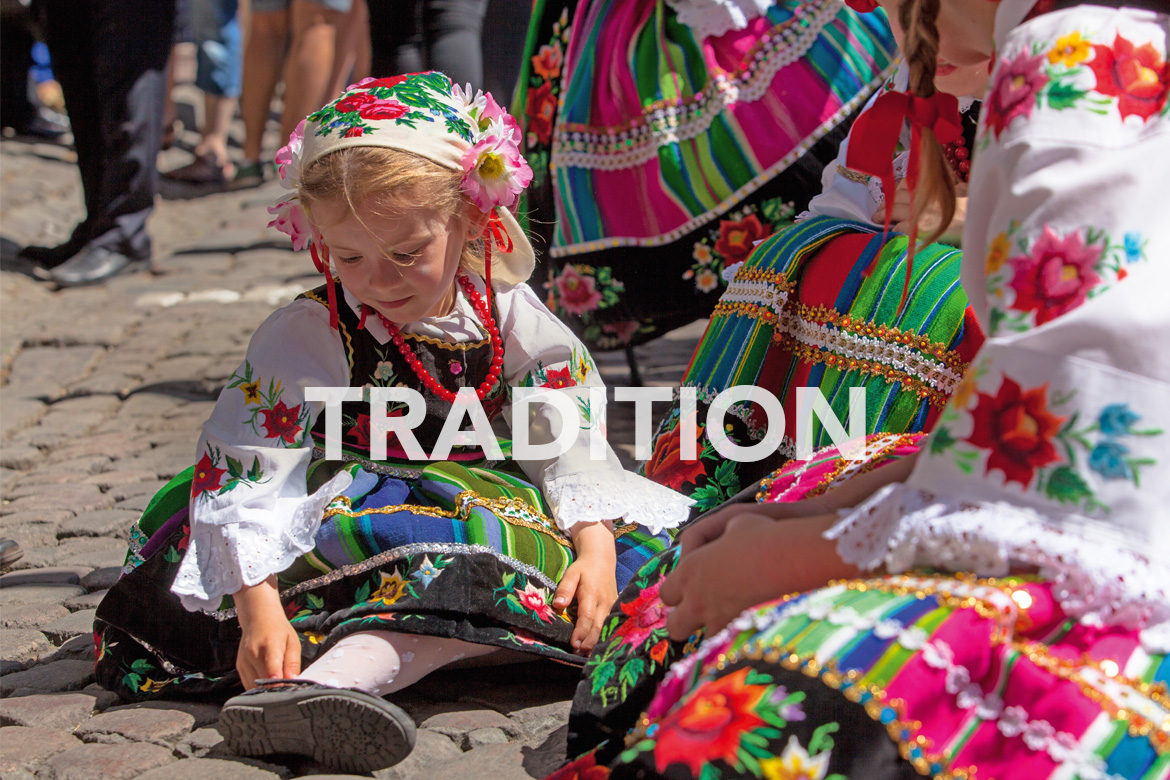 Tradition
Polish roads will take you to interesting places connected with local customs and unusual traditions. The most important of these is … Polish hospitality! You will experience it, especially in the Polish countryside, where, in addition to well-organized and well-equipped agro-tourism farms, you will find beautiful landscapes, the cultural and culinary richness of the regions and a multitude of traditional and local products.
In the picturesque village of Koniaków, located in the south of Poland in the Silesian Province, you can see and buy unusual lace clothing … The village owes its uniqueness to the two-hundred-year-old, yet still alive, tradition of crocheting lace wonders. The mesh products from Koniaków have become so famous that everyone wants to own one. Tiny flowers, fanciful leaves, delicate buds … Dresses, shawls, tablecloths, napkins, or curtains are standard. But when lace makers received orders for lingerie, a lace war broke out. Although lace from altars worn under skirts still causes controversy, there are wonders on offer from Koniaków lace makers with such names as: "Subtle Heart" or "Swan Grace".
The folklore of Łowicz is an interesting example of unusual traditions and costumes. Łowicz – a small town in the Łódzkie Province, is known for its colorful folk culture, including costumes, dialect, dance, music, festivals and Łowicz handicrafts, such as cut-outs and spiders made of colorful paper. The Łowicz costume is one of the richest and most attractive Polish folk costumes, still worn today. The beauty of the Łowicz costume was used in the fashions of other regions. The feast of Corpus Christi is celebrated exceptionally beautifully in Łowicz with a colorful procession in which the folk costume of Łowicz will catch everyone's eye.
Of course, festive customs are most closely associated with Polish tradition. Polish Easter is traditionally accompanied by many colorful events and tourist attractions. In Poland in particular, Easter is unique, having been part of our tradition and culture for centuries. Those include Easter markets, fairs and markets, colorful processions accompanying Palm Sunday and the associated competitions for the prettiest or largest Easter palm, Easter festivals, Easter egg painting workshops, and cheerful games traditionally associated with Easter Monday. The blessing of food in colorfully decorated baskets on Easter Saturday is undoubtedly an extremely attractive tradition. Christmas in the Polish way, on the other hand, means a Christmas tree sparkling with different colors, fragrant gingerbread and Christmas carols. Unique gifts, beautiful Christmas decorations or the wonderful smells of Christmas dishes are just some of the attractions we can find at fairs that spring up before Christmas in central locations in Polish cities and towns. The Christmas fairs have become real hits, loved by tourists and locals alike.
Get inspired by those unique traditions, travel to Poland and explore many other unusual places, where you will find rich folklore and hospitable locals.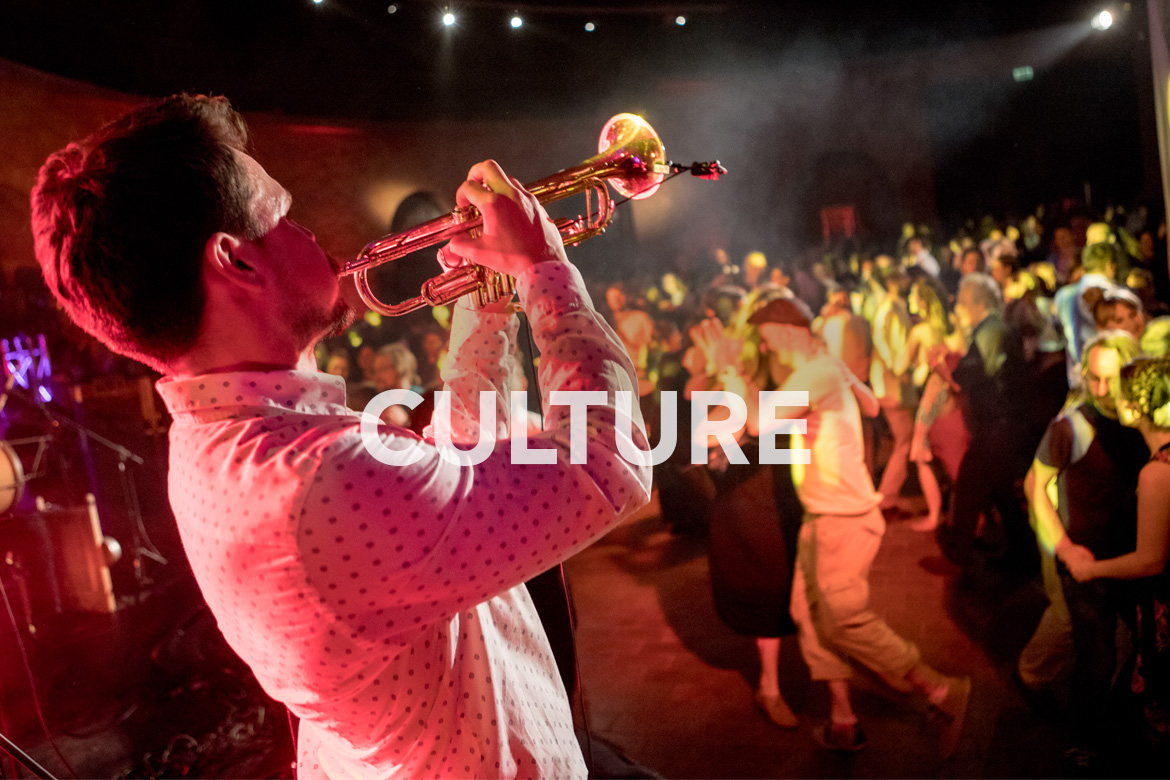 Culture
Theatrical performances, film screenings, festivals and concerts, which are a real treat for music lovers, exhibitions of paintings, posters, photographs, which will delight art connoisseurs, and to top it off, wherever you go there is fantastic historical architecture. In Poland, even the most demanding tourist will experience sublime moments and pleasurable sensations that they will not forget after returning home.
For our guests, Poland offers a wide range of places where culture can be fully experienced through the sensations of admiring art (numerous museums and galleries, e.g., national museums in large cities) or music (e.g., Chopin concerts in Warsaw's Royal Łazienki Park).
In addition, well-known music festivals and concerts (e.g. "Orange Warsaw Festival", "Open'er Festival Gdynia", "Misteria Paschalia" in Kraków), unique re-enactments and historical shows (e.g. the re-enactment of the Battle of Grunwald, the open-air show "Eagle and Cross", "The Siege of Malbork", "Storming of Zamość Fortress"), amazing light events and spectacular shows (e.g. festivals of light: "Light Move Festival" in Łódź and "Bella Skyway Festival" in Toruń), fairs and international cultural events—all this is organized in Poland—a country in the center of Europe with an interesting history and a rich cultural heritage of diverse traditions.
Everyone will find a perfect event for themselves!