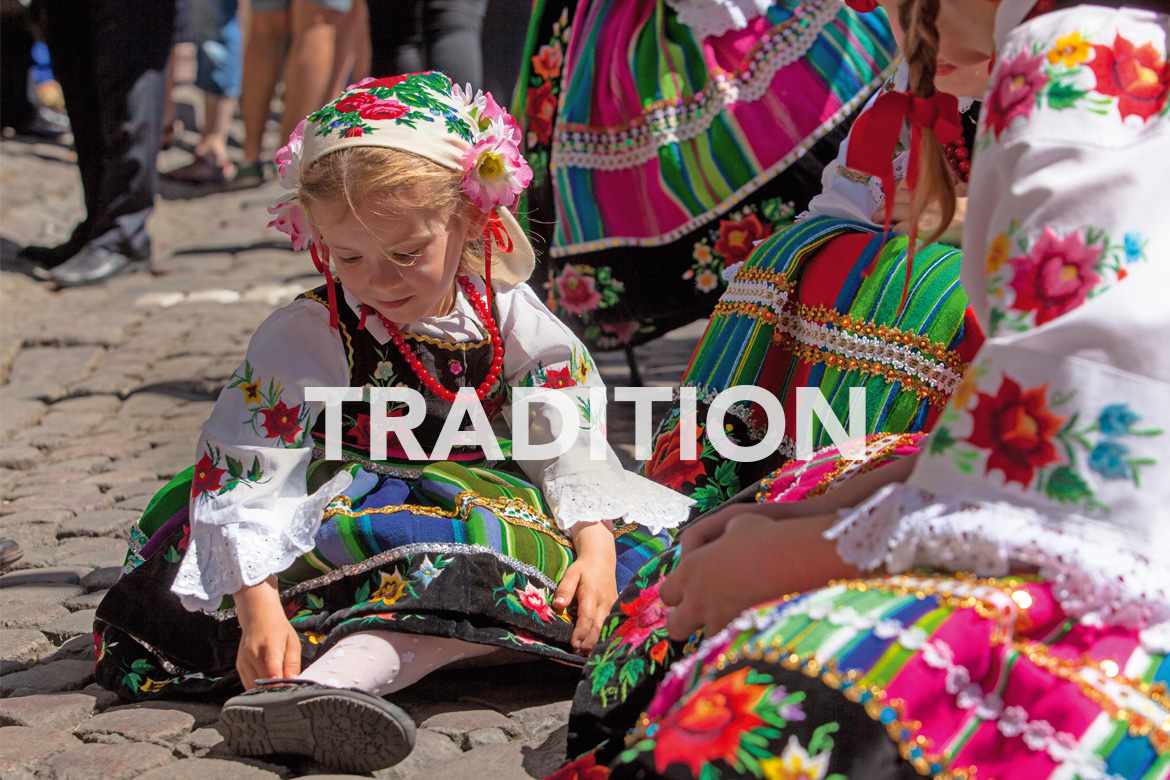 Polish roads will take you to interesting places connected with local customs and unusual traditions. The most important of these is ... Polish hospitality! You will experience it, especially in the Polish countryside, where, in addition to well-organized and well-equipped agro-tourism farms, you will find beautiful landscapes, the cultural and culinary richness of the regions and a multitude of traditional and local products.
In the picturesque village of Koniaków, located in the south of Poland in the Silesian Province, you can see and buy unusual lace clothing ... The village owes its uniqueness to the two-hundred-year-old, yet still alive, tradition of crocheting lace wonders. The mesh products from Koniaków have become so famous that everyone wants to own one. Tiny flowers, fanciful leaves, delicate buds ... Dresses, shawls, tablecloths, napkins, or curtains are standard. But when lace makers received orders for lingerie, a lace war broke out. Although lace from altars worn under skirts still causes controversy, there are wonders on offer from Koniaków lace makers with such names as: "Subtle Heart" or "Swan Grace".
The folklore of Łowicz is an interesting example of unusual traditions and costumes. Łowicz – a small town in the Łódzkie Province, is known for its colorful folk culture, including costumes, dialect, dance, music, festivals and Łowicz handicrafts, such as cut-outs and spiders made of colorful paper. The Łowicz costume is one of the richest and most attractive Polish folk costumes, still worn today. The beauty of the Łowicz costume was used in the fashions of other regions. The feast of Corpus Christi is celebrated exceptionally beautifully in Łowicz with a colorful procession in which the folk costume of Łowicz will catch everyone's eye.
Of course, festive customs are most closely associated with Polish tradition. Polish Easter is traditionally accompanied by many colorful events and tourist attractions. In Poland in particular, Easter is unique, having been part of our tradition and culture for centuries. Those include Easter markets, fairs and markets, colorful processions accompanying Palm Sunday and the associated competitions for the prettiest or largest Easter palm, Easter festivals, Easter egg painting workshops, and cheerful games traditionally associated with Easter Monday. The blessing of food in colorfully decorated baskets on Easter Saturday is undoubtedly an extremely attractive tradition. Christmas in the Polish way, on the other hand, means a Christmas tree sparkling with different colors, fragrant gingerbread and Christmas carols. Unique gifts, beautiful Christmas decorations or the wonderful smells of Christmas dishes are just some of the attractions we can find at fairs that spring up before Christmas in central locations in Polish cities and towns. The Christmas fairs have become real hits, loved by tourists and locals alike.
Get inspired by those unique traditions, travel to Poland and explore many other unusual places, where you will find rich folklore and hospitable locals.