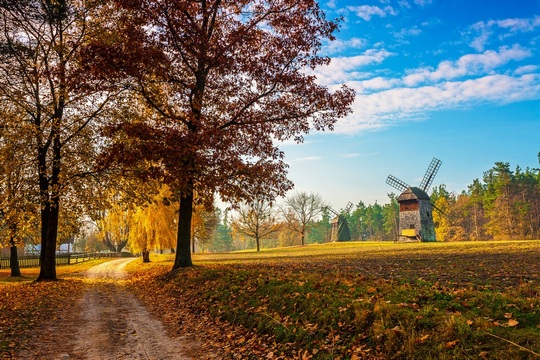 Amazing views, unexpected flavours, exciting impressions.
Fewer tourists, warm weather without heatwaves, and landscapes awash with red, orange and yellow. An autumn holiday? Come to Poland!
Autumn is the best time to visit the Bieszczady Mountains – synonymous with taking it easy and interacting with wild nature. In October, beech forests display an exceptional palette of green, yellow and red hues echoed by the brownish yellow of mountain pastures. Autumn is also rutting season – a unique opportunity to hear the mating calls of deer in their natural environment.
Mixed and broad-leaved forests with wonderfully colourful firs, lindens and beeches are also typical of the Roztocze region. Stretching from Kraśnik all the way to the border in Hrebenne, it's a great place to visit in autumn. Roztocze's hilly ridges cut through by magical gorges in Szczebrzeszyn Landscape Park are well worth seeing.
The season of falling golden leaves brings an abundance of natural treasures in Polish forests. That's when you should definitely visit the Tuchola Forest – Poland's second-largest forest. As much as one-tenth of the mushrooms are edible. The local lakes are a paradise for anglers and all those who relax best near water. Everyone will be enchanted by the soothing silence, the smell of forest, lichen and moss, and captivating heathlands.
Autumn is also great for a trip to the Polish seaside. The Baltic coast is exceptionally beautiful at this time of year. The crests of waves emerge picturesquely from the sea's surface, the sun shines in warmer tones, and the sand's temperature is a reminder of the recent summer. October is a time of more frequent storms – dangerous at sea, but also beautiful and fascinating. This is when they cause the Baltic to throw out the most amber and offer the biggest amount of healthful iodine.
The best time to visit Polish vineyards is also autumn, the season of the grape harvest, which also takes place in Poland! With every year, new sites are added to the map of Polish vineyards. Today you can find them almost everywhere: from the Lubusz and West Pomerania regions, through Lower Silesia, Małopolska and Świętokrzyskie, all the way to the Podlasie, Lublin and Podkarpacie regions. Polish wines are quickly making a name for themselves, and in tastings often win against rivals with much richer winemaking traditions. Local winemakers will welcome you with genuine Polish hospitality, happy to tell you about their passion and the grape varieties they cultivate. There's nothing for it but to take an enotourism trip around Poland!