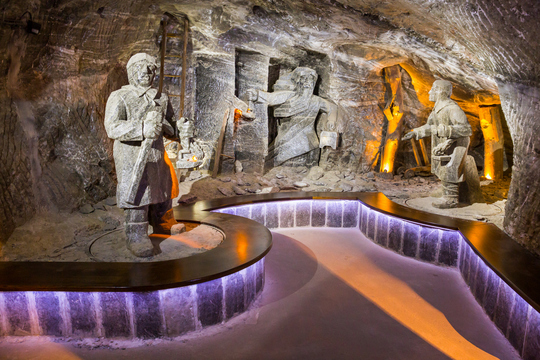 Discover amazing attractions hidden below surface
All the best things are usually well concealed. In Poland, you can find true gems hidden underground. In fact, there are over 200 such sites: spectacular mines, multi-storey medieval cellars, and even entire mysterious cities once built by the military.
Mines are a real hit among Poland's underground attractions. The UNESCO World Heritage Site list includes the royal salt mines in Bochnia and Wieliczka as well as the lead, silver and zinc mine in Tarnowskie Góry. The former two, 700 years old, not only formed Poland's oldest company but are also real undergrounds town carved in rock salt, with glistening sculptures, chapels and corridors. Visitors can enjoy exciting, several-hour sightseeing routes, an underground train ride and even the world's only underground boat trip across a brine-filled chamber.
A visit to the Tarnowskie Góry silver mine is just as exciting. This is a unique, 35-kilometre-long underground maze comprising historical water corridors, adits, shafts and other types of mining architecture. The unique system of managing underground water for drinking is another real treat. The biggest attraction, though, are the water-filled galleries that you get to navigate by boat.
Many of Poland's underground attractions are wartime relics. These include the Międzyrzecz Fortification Region, which was recently honoured with a Google Maps Golden Pin and is one of Poland's largest underground complexes linking World War II fortifications. The complex, which stretches between the Warta and Odra rivers, offers as many as three tourist routes as well as one extra, extreme route for the boldest and toughest adventurers.
Let's not forget the huge Riese complex, which is surrounded by a veil of mystery. Located in the Owl Mountains, it is the largest though never completed mining and construction project of Nazi Germany. A system of connected tunnels, shafts and halls forms an underground city running under Książ Castle, Walim, Jugowice Górne, Włodarz, Głuszyca, Osówka, Soboń, Sokolec, Wielka Sowa and, probably, Moszna. The complex is so vast that it has not been fully explored to this day.
Underground attractions definitely also include the labyrinths of town cellars. The chalk tunnels in Chełm are among the most interesting. Tourists can access only part of this complex of corridors stretching under the whole Old Town, the oldest of them having been formed in the 13th century. These multi-level corridors still hide many secrets. People say that you can find ducal valuables and treasures once belonging to the town's residents in their walls. So far, the items that scientists have discovered in the cellars include old weapons, tiles, coins and iron tools.