Experience wild nature and beautiful landscapes by exploring Poland on foot.
Poland is an extraordinarily diverse country abounding in stunning landscapes and wild nature. It boasts lots of spectacular valleys, winding rivers, sprawling meadows, secluded forests, demanding peaks, blue lakes and breathtaking seaside beaches. All of these areas are criss-crossed by longer and shorter hiking routes. Time to pack your rucksack and set off in search of adventure!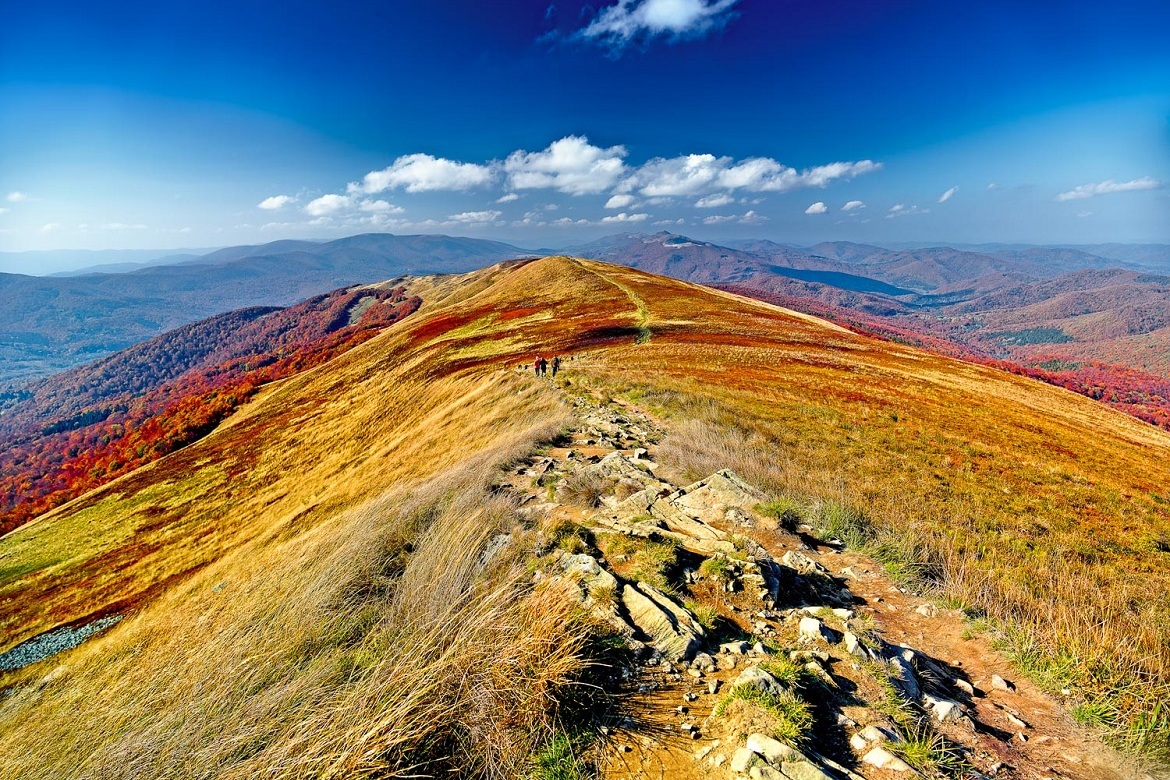 Main Beskid Trail
The longest and definitely one of the most splendid mountain hiking trails in Poland offers some 500 km of exciting routes from Ustroń in the Silesian Beskids to Wołosate in the Bieszczady Mountains, across 10 mountain ranges. It is known as the Holy Grail of Polish mountain enthusiasts. On this trail you can discover magnificent peaks, incredible observation towers and picturesque mountain pastures, spend the night at welcoming hostels, encounter wild nature and try local, genuinely Polish cuisine.
Along the Baltic Coast
Hiking is just as much fun… at the seaside, especially if you love sandy beaches and the sight of sea waves but not passive leisure pursuits. A hike along the Polish coast – from Świnoujście to Hel or vice versa – is an amazing experience. Over 360 km long, this route is a real treat for those who love the sea. Make sure you explore the coastal forests, see the famous sand dunes in Łeba, and visit Słowiński National Park. On the way, don't forget to gather the gold of the North: wonderful Polish amber.
Trail of the Eagles' Nests
Mountains or seaside? If you think such a choice is too traditional, try the picturesque Trail of the Eagles' Nests marked in the Kraków-Częstochowa Upland. You can complete this route – over 160 km in total – in under a week. In that time, you get to hike amidst the natural beauty of Ojców National Park and receive a sizable dose of Polish history captured in centuries-old strongholds, most of them built during the reign of Casimir the Great, in the 14th century. Must-see sites include Pieskowa Skała Castle and Ogrodzieniec Castle in Podzamcze. The latter was a location for the Netflix series The Witcher.
Białowieża Forest Wolf Trail
For those who are apprehensive about long hikes over many days, the Wolf Trail in Białowieża Forest is an excellent option. This route is less than 12 km long and abounds in swamp forests, natural monuments – from age-old trees to huge erratic boulders, picturesque meadows on the River Narewka, and an exhibition presenting a narrow-gauge forest railway. Also here you will find one of the main attractions in this part of Poland: the European bison sanctuary at Kosy Most.