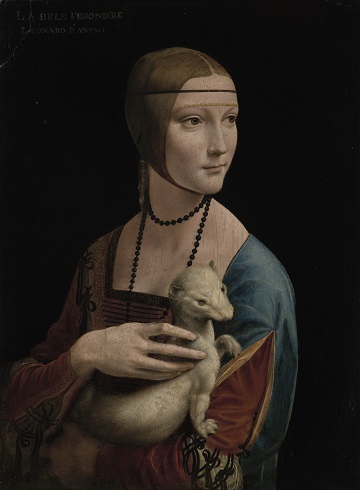 The Czartoryski Collection is one of the most intriguing and varied art collections in Europe, including 86,000 objects and a library of 250,000 books and manuscripts. One of the most unique pieces is Leonardo's Lady with an Ermine, one of just four portraits of women by the master. Dated to around 1490, it depicts Cecilia Gallerani, the young mistress of Duke Ludovico Sforza of Milan, a patron of Leonardo.
After Cecilia's death, the portrait disappeared for several centuries before it resurfaced in Poland in 1800. Tugged back-and-forth between Poland and Germany during the Nazi occupation of Poland, The Lady survived II World War almost intact.
Recently, French scientist Pascal Cotte has astounded art historians with a major discovery about this masterpiece. Until now, it had been assumed that da Vinci's composition had always included the white ermine, but Cotte's three year-long investigation has revealed that the Italian artist actually painted the work not in one, but in three clearly differentiated stages.
His first version was a simple portrait, with no animal. In the second attempt, the painter included a small grey ermine. In the third and final stage, the animal was transformed into a large white ermine.
The Krakow National Museum is Poland's most popular attraction outside of Warsaw. Discover why below and find out how to make the most of your visit.