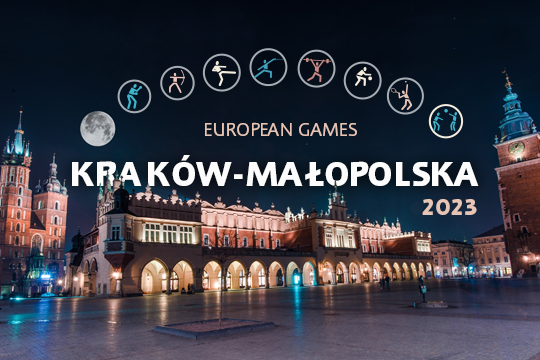 Once the pandemic is over, the Polish Tourism Organisation plans to turn to its attention to cultural and sporting events to attract more foreign tourists. The 2023 European Games, scheduled to take place in Krakow and the Malopolska region, will play a significant role in promoting Poland abroad. Plan your trip today to support!
The European Olympic Committees (EOC) has decided that the Malopolska Region and the city of Krakow, Poland, will host the third edition of the European Games in 2023. The Polish Tourism Organisation sees huge potential to promote the country internationally thanks to the event.
— "Hosting the 2023 European Games is a fantastic opportunity to promote Poland and Polish tourism abroad. I believe that this event will be a catalyst of economic opportunities as well as help the tourism industry to recover faster" - said Andrzej Gut – Mostowy, Secretary of State, Plenipotentiary of the Prime Minister for the promotion of the Polish brand.
"It is a chance to promote Poland and its values among foreign tourists. We can be proud not only of our sports representation but also of Polish tourist brands, which are recognised for their high quality" – added the Deputy Minister.
Several thousand athletes are expected to take part in the European Games and compete in 24 disciplines. The last Games, hosted by Minsk (Belarus), attracted more than 35,000 visitors. The 2023 edition has the potential to entice even more tourists as Krakow is one of the most popular destinations for city breaks in Europe. Sport tourists travel to a destination not only to watch athletes participate, but also to visit and learn more about the host city. The accessibility of Krakow is not without significance.
— "Thanks to hosting such an important sports event, Poland will be in Europe's spotlight. We have already started to conduct extensive consultations with the sector to find out what kind of tour packages we should deliver to encourage sports fans to visit our country. We would like to provide them with the best value for money offer." – added Rafał Szlachta, President of the Polish Tourism Organization.
In recent years Poland has hosted many sports events including EURO 2012, European and World Volleyball Championships, European Athletics Indoor Championships, the FIFA U-20 World Cup and more.
Additionally, every year Poland hosts the Ski Jumping World Cup (Zakopane or Wisla) and the Tour de Pologne – one of the most important road cycling races in Europe.
Poland has been praised for organising sports events by both International federations and foreign visitors. However, what really distinguishes Poland from its competitors is an unforgettable sports stadium atmosphere and famous Polish hospitality. According to the survey conducted 2 years ago by booking.com, Poland is one of the three most welcoming countries in the world.