Polish food
A journey to explore the tastes of Poland will lead you to rediscover the times when the same lands were occupied by people of different nations: Jews, Lithuanians, Ukrainians, Tatars. The cultural contributions made by these peoples included their special culinary traditions. This variety is noticeable on Polish tables even today.
Ancient recipes are still kept alive in Poland. Just go to Podlasie, where you can try the typical Lithuanian kibiny, potato kartacze stuffed with minced lamb and kindziuk, an original dried sausage.
In the vicinity of Sejny, you will find traditional Prussian sekacz, a delicate-tasting and unusually-shaped cake fire-roasted on a spit. In the Lublin area you can sample the old Polish pierog bilgorajski, a potato pancake baked with cottage cheese and buckwheat groats.
Never leave Podhale without taking with you some of Poland's most famous cheese, the smoked oscypek made from ewe's milk to a recipe borrowed centuries ago from wandering Romanian shepherds. It is also worth being tempted by other delicacies from the Podhale family of dairy produce: the mild bundz, the spicy bryndza or the very healthy zetyca, whey made from ewe's milk.
Malopolska is also famous for the smoked sausage called kielbasa lisiecka, produced since the 1930s in Liszki near Krakow. It is hard to imagine Polish cooking without soups, such as borsch, consommé and mushroom soup. Among the best known is zur na zakwasie, made of fermented rye flour and particularly popular in Silesia, and the highlanders' kwasnica, a goose consommé with threads of sauerkraut.
For dessert we recommend pierniki (gingerbread cakes) from Torun. These are perhaps Poland's most representative confectionery product, with a tradition going back to the Middle Ages. The cakes, smelling of honey and spices and baked in many different shapes, have been presented on special occasions to important personages, including emperors, Nobel prize winners and presidents.
Other towns have also developed their own distinctive bakery produce. Krakow has its pretzels covered with sesame and poppy seeds, also called by their Jewish name of bajgiel. Kazimierz Dolny is known for its onion rolls and yeasty cockerels, while Poznan has its rogale marcinskie, crescent-shaped cakes baked on November 11 for the day of St. Martin, the city's patron saint.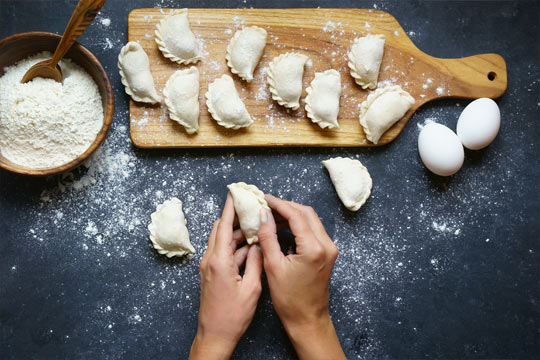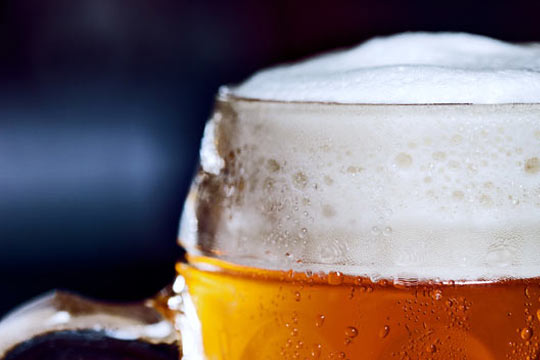 With the high cost of production and not a very favourable climate, Poland is not a large-scale wine producer. Local grape-based wine is still a niche product, available in catering, online stores and some wine stores, but, according to experts,
Polish vineyards
 can compete on European markets not with quantity, but the quality of the wine sold. Poland produces good quality white wines, sparkling wines and liqueurs.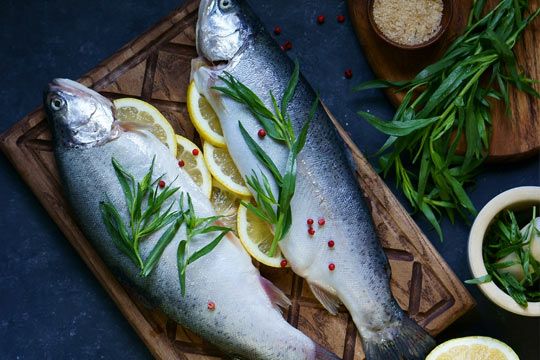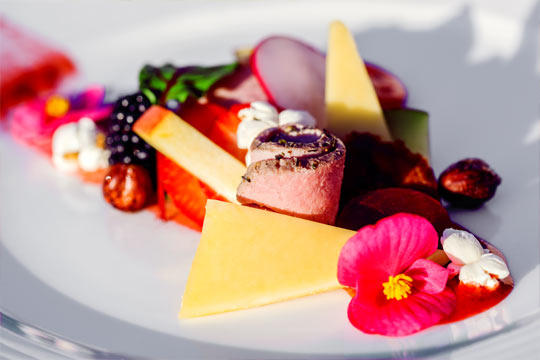 Bigos ("hunter's stew") is a classic example of a one-pot dish, originally prepared with what-ever game a hunter (or poacher) could get. The line-up of extras is also variable, though the usual basis of bigos is chopped white cabbage, sauerkraut and dried mushrooms, cooked with pork, bacon and żywiecka (Polish sausage). Adding a little lard is traditional and gives a wonderful depth of flavor, whereas the question of whether or not to add a few tablespoons of tomato purée is a great talking point among serious cooks.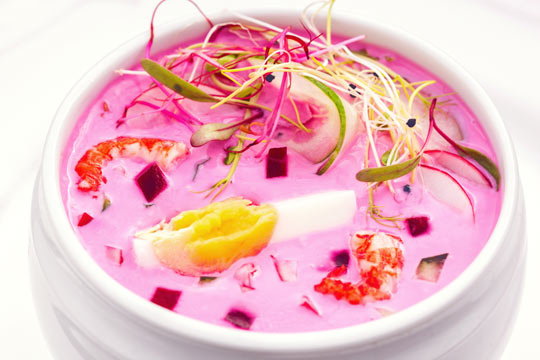 Polish hospitality is warm and generous, summed up by popular saying: "a quest in the house, God in the house." Breakfast is typically a selection of sliced cured meat, tomatoes and cheese, rye bread and plenty of strong coffee. A late lunch is usually the day's main three-course meal, with a light buffet – style supper typically comprising cold cuts, vegetables such as tomatoes and pickled cucumbers, with rye bread.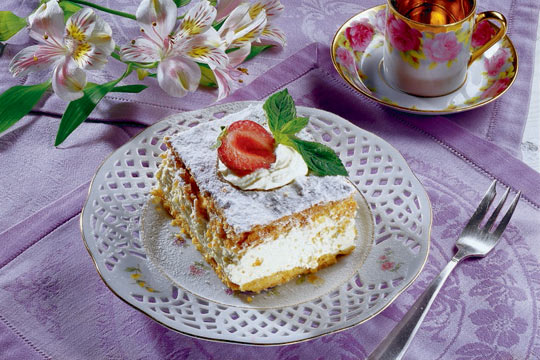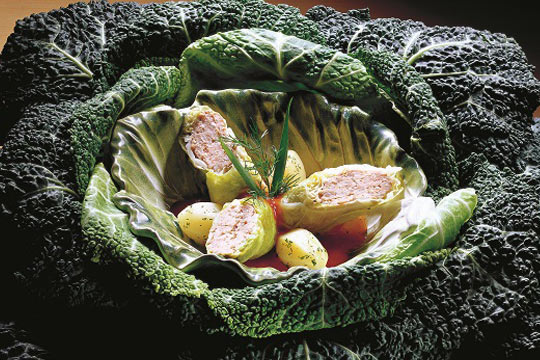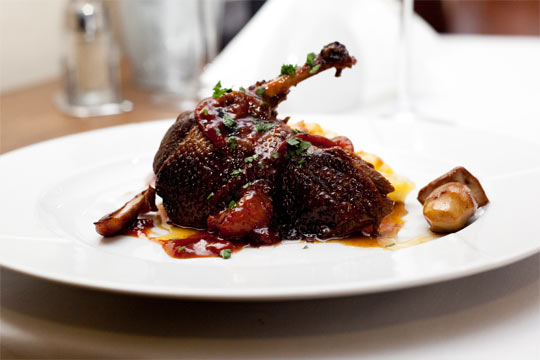 Lucius Licinius Lucullus, the self-indulgent Roman general, was particularly fond of fig fed ducks. In the Polish recipe, apparently for reason of availability, the exotic fruit was replaced with native apples. Duck with apples, once the dish of choice of the royalty and aristocracy, today is served in Polish restaurants.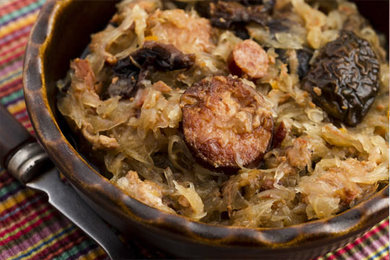 Cuisine typical of the Tricity is a mix of traditions from all parts of the country, the continent and even the world. The result of such a combination is visible in the eclectic character of the cuisine, where it is sometimes hard to find local, uniquely regional dishes. An interesting paradox is, however, that it can be at times the closest to fine, traditional Polish cuisine.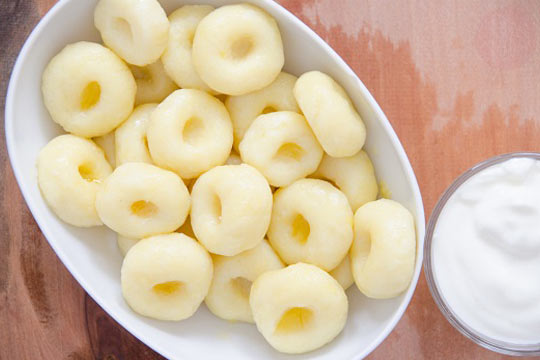 The dining tables in Katowice are laden with żur, kwaśnica, krupniok śląski, wodzionka, hekele, babraczka, żulik – typical of local, Silesian cuisine. (To appreciate these dishes it is best to taste each one. The written word is insufficient to describe them. All that can be said is that they are delicious).