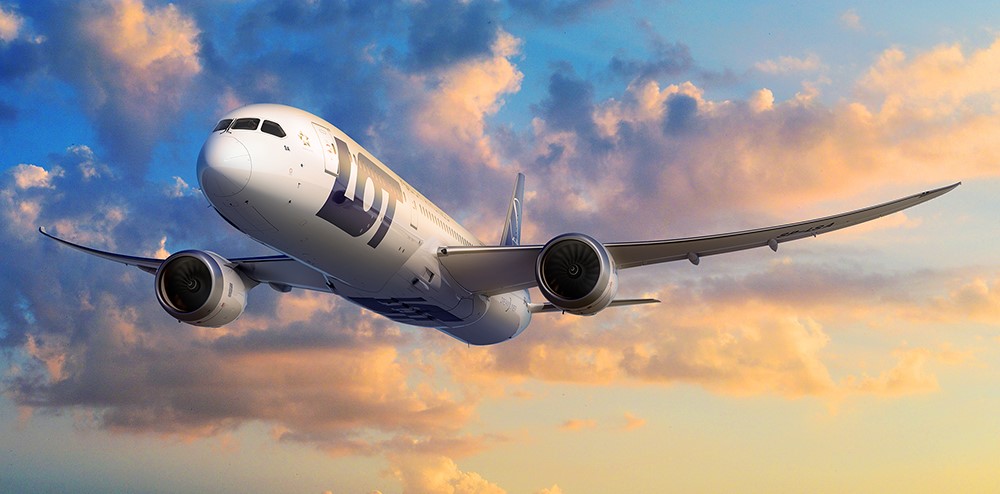 LOT Polish Airlines Celebrate 90th Anniversary Opening New Direct Route from Miami to Warsaw!
ENJOY YOUR FLIGHT ON BOARD THE DREAMLINER
While celebrating 90 years anniversary, LOT has one of the youngest and most modern fleets in Europe and is currently the fastest growing airline on the continent. In 2017 its passenger traffic totaled over 6.8 million which means that the figure went up by nearly 25% year-to-year. This year it has plans to reach the threshold of 9 million and exceed 10 million in 2019.
LOT has been significantly modernizing its fleet. The company is purchasing new aircraft, including the state of-the-art Boeing aircraft: Boeing 787-8 Dreamliner, and Boeing 787-9 Dreamliner. For the long-haul flights the Boeing 787 Dreamliner is the exclusive aircraft, highly valued for increased cabin pressure and humidity levels, enhancing passenger comfort and reducing the effects of jet lag. A three-class LOT Dreamliner offers travelers a choice between: LOT Business Class, LOT Premium Economy and LOT Economy Class.

LOT IS DYNAMICALLY GROWING
The non-stop flights from the US and Canada to Poland include five airports:
New York (JFK)
Newark (ERW)
Chicago (ORD)
Los Angeles (LAX)
Toronto (YYZ)
We offer convenient layovers to passengers traveling onward in Europe.
As of June 2019 the Polish carrier will fly non-stop from Miami to Warsaw four times a week. Also, LOT is developing dynamically in Hungary, where it offers non-stop flights to New York and Chicago. This year, LOT exceeded the magic number of 100 different connections in its network.
More information http://www.lot.com/us/en/