National Parks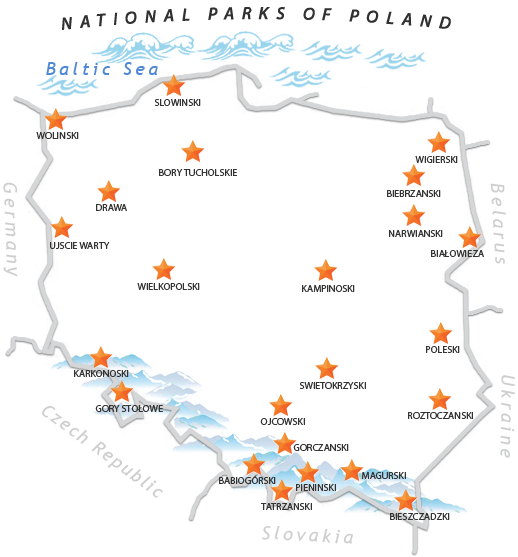 Travelers from around the world flock to Poland for a variety of reasons. While the cities are a major draw, Polish national parks are also an exceptional reason to visit the country.  The twenty-three protected areas represent the best scenery and outdoor exploration opportunities. Whether a visitor wants to hike in seclusion, spot wildlife in their natural habitats or get to know the country's history, the parks offer an incredible way to pursue one's passion.  Each one is remarkable but the most appealing and popular ones are genuine wonders and make a list of the must-see for nature-lovers.
Along the Baltic Coast is Slowinski National Park that preserves the system of seaside lakes, peat bogs, meadows, woods and conserves unique moving dunes belt.  Guests can follow over 105 miles of paved hiking paths to discover all the park's treasures.  
Bialowieza National Park, listed by the UNESCO as a World Heritage, is one of the last remaining primeval forests in Europe.  The area is home to the largest population of European bison in the world.  Hikers may spot them along with wild boar, elk, red deer, wolves and a range of other forest mammals.
Biebrzanski National Park, is located along the Biebrza River in northeastern Poland. It is a huge draw for tourists eager to explore indigenous wildlife in their local habitats.  The park comprises pristine wetlands and marshes that serve as the home to rare birds, elk, beaver, otters and wolves. Visitors can enjoy it on foot and by bike.  Or they can take one of many water routes and follow them by kayaks, regular boats or traditional rafts.
Ojcowski National Park, in Southern Poland offers a peaceful retreat from the hustle and bustle of city life. The park's topography which varies wildly and includes canyons, limestone cliffs and valleys makes it a very interesting one.  
To the south of Poland is the High Tatra Mountain Range, which stretches over the border of Poland and Slovakia. Breathtaking scenery and hundreds of miles of trekking trails, underground cave systems and even waterfalls makes Tatrzanski National Park one of the most favored in this part of Europe.