Poznań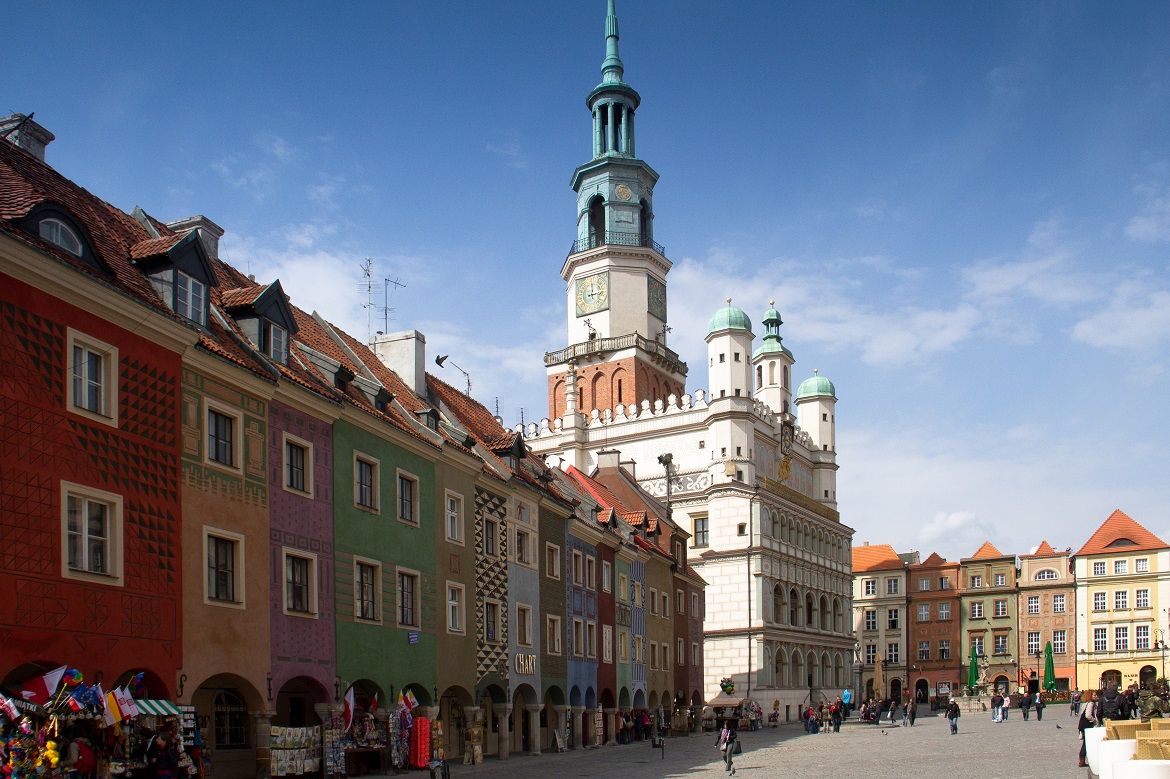 The picturesque capital of Wielkopolska province is today a major economic, commercial, scientific, cultural and tourism hub in Western Poland; it's home to the country's most important trade-fair complex and possibly the most spectacular Town Hall you'll ever see… 
Where Exquisite is the Norm 
Any talk of Poznań inevitably begins with a mention of its Renaissance Town Hall – understandably considered the most beautiful north of the Alps, you'll be hard pressed to find a more exquisite example anywhere. Among its extraordinary features, you'll find charming billy-goat figures who pop out to butt heads at noon! Poznań has several other drawcards, of course, including Poland's only painting by Monet and the delicious sweet treat known as St. Martin croissants. Make no mistake, this 1,000-year-old city on the River Warta has much to be proud of – it even has its own local dialect. 
If you've got a sweet tooth, you're going to love the croissants. Although they're sold by many cake shops throughout the country, only the Wielkopolska (Greater Poland) region actually has the right to bake them. Why? Because the European Commission has listed them as a Protected Geographical Indicator. It should also list them as deliciously moreish! Made from Danish pastry dough according to a very strict recipe, the main filling ingredient is white poppy seeds and they're often topped with icing. To give you an idea of its importance, there actually exists an interactive Poznań Croissant Museum. Here you can learn the story of just how this baked goodie became the sweet symbol of the Wielkopolska province, by watching an animated cartoon version of the "croissant history of Poznań", which is presented under the polychromed wooden ceiling of a Renaissance tenement in the Old Town Market Square. Before you ask, yes, of course you get to taste the famous croissants – you can even take part in making them if you fancy it. The museum resounds with the local Poznań dialect, which, although not heard much on the streets today, was extremely popular during the 19th Century. A mixture of Wielkopolska dialect and German, it is a legacy of the times of the Prussian partition, but also the Bamberg settlers who accepted an invitation to Poznań some 300 years ago. Here is a selection of places you really shouldn't miss when visiting this incredible city: 
Historical Landmarks 
The windows of the Croissant Museum's 500-year-old tenement offer a great view out onto the Town Hall, its front decorated with a three-tiered arcaded loggia and a gallery of portraits of Jagiellonian kings on the top floor. Make sure you visit around midday: on a small platform directly above the clock, the figures of two white billy goats butt heads every day at noon as a bugle call sounds. Legend has it that the animals escaped from under a kitchen boy's knife centuries ago, when he was about to turn them into the main course for dignitaries celebrating the installation of the Town Hall's first clock mechanism. The Market Square is surrounded by stunningly vibrant, Baroque-style tenements and boasts no less than four fountains: an 18th-Century one with a statue of Proserpine and three with modern-day figures of Apollo, Mars and Neptune. 
Poznań residents often, perhaps bizarrely, choose to meet up at the statue bearing the sombre figure of an executioner, in front of the Town Hall. Infinitely nicer to look at, the Bamberg Woman Well, with a statue of a woman in folk costume carrying two large containers of water, is slightly hidden from sight, and is a reminder of the time in the 18th Century when settlers from beyond the River Oder, who are locally referred to as Bambers, chose the city as their new home. Poznań has a rich, multicultural history, a city where Poles, Germans and Jews lived happily side by side. 
The oldest part of the city is Cathedral Island (Ostrów Tumski), situated in the fork of the River Warta and its tributary, the Cybina. A powerful fortified town existed here from at least the 9th Century - some even say it's the birthplace of Poland itself. The country's oldest cathedral, the majestic cathedral of Saints Peter and Paul, stands there to this day. There are remnants of tombs in its vaults – probably the resting place of Poland's first rulers, Mieszko I and his son Boleslaus the Brave. Where better to learn about the ancient history of a city than in one of its most ultramodern buildings? The dramatic white Porta Posnania Interactive Heritage Centre, which you enter via a spectacular footbridge that crosses the river, has won several architectural competitions and is one of the key sites on the Royal-Imperial Route. 
This popular tourist route links Cathedral Island with the Old Town and the city centre and is a great way to experience the city. Among the many sights you'll see along your way is the former Imperial Castle. Looking rather like a real medieval fortress, the early 20th-Century neo-Romanesque building is considered to be Europe's youngest castle built for a crowned ruler. Inside, the Zamek Culture Centre it houses opens its spaces to experiments by creative personalities from many different arts. The Museum of the Poznań Uprising, which took place in June 1956 (a division of the Wielkopolska Museum of Independence) is also located here. A monument commemorating this first mass workers' protest in communist Poland, which was bloodily suppressed, can be found in the nearby Adam Mickiewicz Square. 
Spoilt for choice 
When it comes to sport, leisure and cultural activities, you really are spoilt for choice in Poznań. Like to engage in some retail therapy? The best place for a good old shopping spree is Stary Browar, which the International Council of Shopping Centres chose as the world's best medium-sized shopping centre in 2005. The giant, modern, red-brick complex combines retail space with an art gallery of modern sculptures and installations. It also hosts many cultural events. Wear comfortable shoes, you'll end up walking for miles! 
You won't be surprised to learn that the incredible yet artificial Lake Maltańskie ("Malta"), located almost in the heart of the city, attracts crowds of water sports enthusiasts. If you prefer dry land, there's plenty for you too; the area around it includes a year-round ski slope with ski-lifts and a toboggan run as well as other sports-related attractions. Adults and children of all ages will love the Malta Thermal Baths, one of the largest waterparks in Poland. For a different experience, the quaint Maltanka Park Railway train straight to the New Zoo for a memorable encounter with Siberian tigers, European bison, bears and many other exotic animals. 
If the tropics are more your thing, the 100-year-old Poznań Palm House offers a hot and humid environment and an exciting journey to faraway continents among as you wander through lush vegetation from different climate zones. The experience is made even more authentic by the sound of rushing water, aquariums with exotic fish and rich programme of events, including a fabulous night-time tour. The Palm House is also the chosen venue for several exhibitions and concerts and is located in the Art Nouveau part of the Łazarz district. 
Nearby you'll find the Poznań International Fair complex, which stands beside the Poznań Główny railway station. From there, it's just a short walk to Jeżyce, a district made famous by a series of young-adult novels by Małgorzata Musierowicz. The Borejko family featured in the books lived in one of the elegant tenement buildings and the Jeżyce Market Square is still one of the places where the local dialect can be heard. 
Art lovers should definitely visit the imperial-looking National Museum, where among the pieces on show, you'll find Beach in Pourville, the only painting by impressionist artist Claude Monet in any Polish collection. The Museum of Applied Arts, meanwhile, lets you touch and even smell bygone times. It's located in a reconstructed royal castle with a tower from which you can enjoy an almost unrivalled panorama of the Old Town. 
Last on the list of the absolute musts is the uniquely eye-catching Poznań Stadium, the first arena completed for the UEFA Euro 2012 championship. It's the home stadium of the KKS Lech Poznań football club, which Robert Lewandowski played for between 2008-2010, with a capacity to seat almost 43,000. It also serves as a venue for concerts and performances. The stadium, including some of its usually inaccessible nooks, can be viewed during regular guided tours. 
And don't forget… 
The food! The local cuisine should definitely not be overlooked here in Poznań. After such intense sightseeing, it must be time to try the local dishes, which include pyra z gzikiem (local dialect for potato with cottage cheese dip) or something a little fancier, like Poznań-style duck, which comes with delicious potato dumplings, baked apple and red cabbage. 
Before leaving, you may want to pick up some cult-status billy goat merchandise. The goats are somewhat legendary! A pair of socks, perhaps? Drop into the PLOT Tourist Information point at 59/60 Stary Rynek (Market Square) for all manner of souvenir options. This is also where you can pick up a Poznań Tourist Card, which will make sightseeing in Poznań easier, cheaper and more enjoyable for you. 
In 2019 Poznań was voted fifth best city on the Best European Travel Destinations list.
To find out more, visit Poznań's tourism website. 
Poznań is a delightful city found in the west-central part of the country. As one of Poland's oldest cities, there is plenty for tourists to discover here, from the ancient to the modern.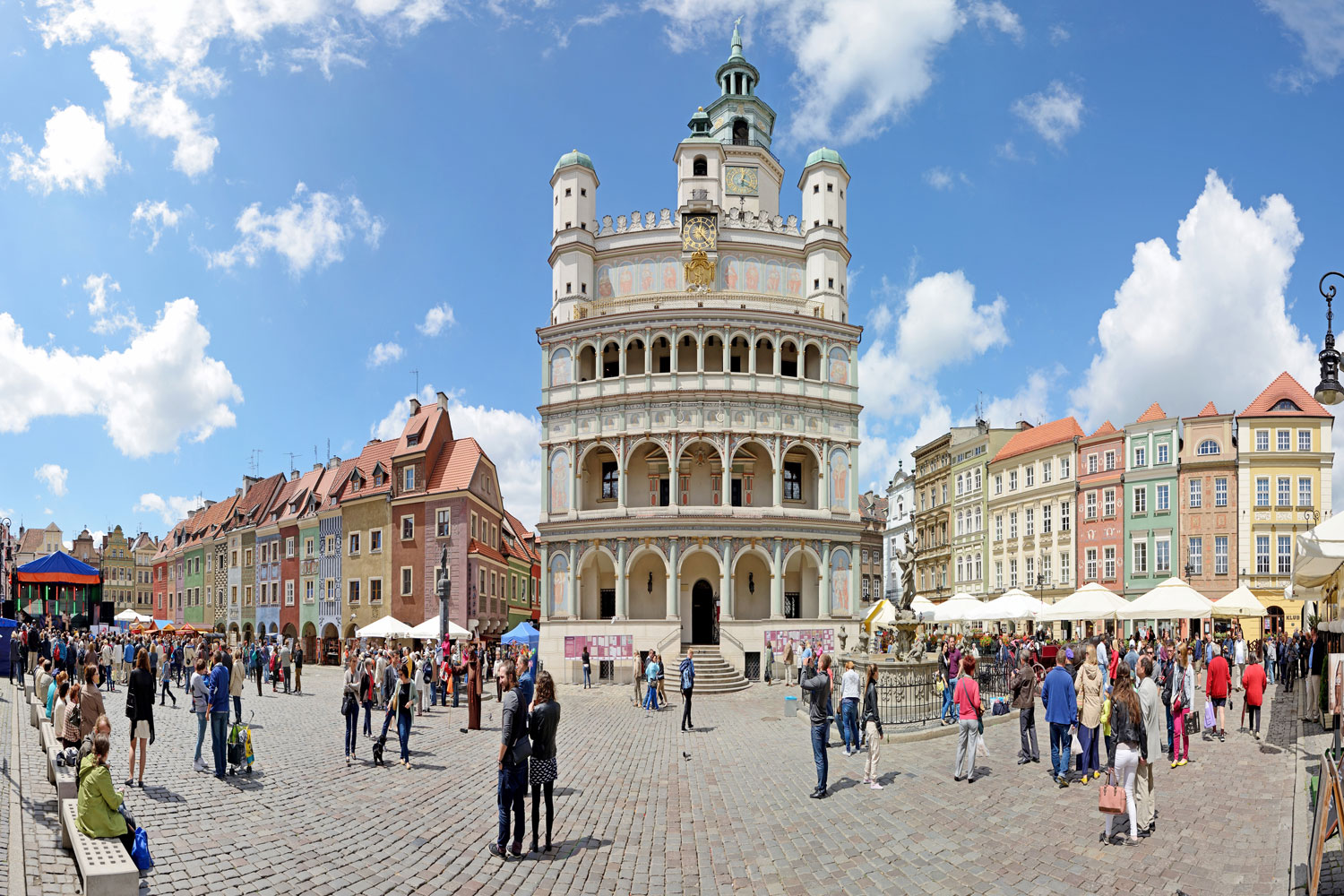 Welcome to Poznań, a beautiful and fascinating city, where history intertwines with modern times in an unusual way.