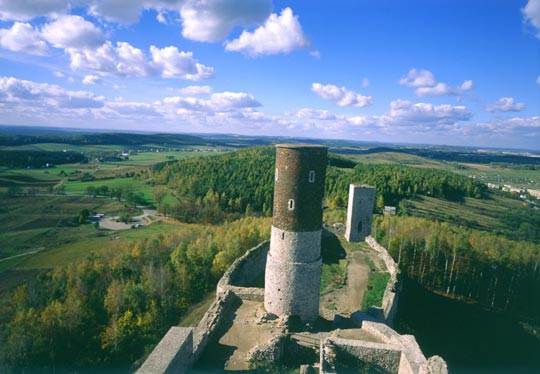 Chęciny is a town located close to Kielce on the route between Warsaw and Krakow. The town is known for the picturesque panorama dominated by a Gothic castle sparing over the town.
The Royal Castle in Checiny was built on a rocky hill top at the turn of 13th and 14th century. The first references to the castle appear in Wladyslaw the Short's document from the year 1306, in which he stated a confirmation for the entrustment of the castle, together with eleven villages, to a Bishop of Cracow, Jan Muskata .It is just beginning to the long eventful history of the castle, which you can discover on a virtual tour
Currently, the castle in Checiny is one of the most visited heritage site of that type in Poland. Huge bastilles dominate in the area and are visible from the road leading to Krakow. In the eastern tower there is an observation point and when the weather is good, the summits of Tatra Mountains are visible.
The historic town also has a lot to offer. It is worth visiting an early Baroque cloister of the Benedictine Sisters, a church and monastery of the Franciscans founded by the king Kzimierz the Great in 1368, a parish church erected in the first half of the 14th century as well as a Renaissance-style former inn building referred to as Niemczowka, late-Renaissance synagogue erected in the first half of the 17th century and a Jewish cemetery.
Watch the video Checiny Castle